News broke out on April 4th 2017 that more than 80 people have perished in a suspected chemical attack on the rebel-held town of Khan Sheikhoun in north-western Syria. Worse, ONE THIRD of them were children who had not even an iota of knowledge about the political issues Syria is suffering since many years. 
An air strike by Syrian forces left people gasping for breath as a reaction to the nerve agent released by bombs.
BBC reports: Quote– 
"Witnesses say warplanes attacked Khan Sheikhoun, about 50km (30 miles) south of the city of Idlib, early on Tuesday, when many people were asleep. Mariam Abu Khalil, a 14-year-old resident who was awake, told the New York Times that she had seen an aircraft drop a bomb on a one-storey building.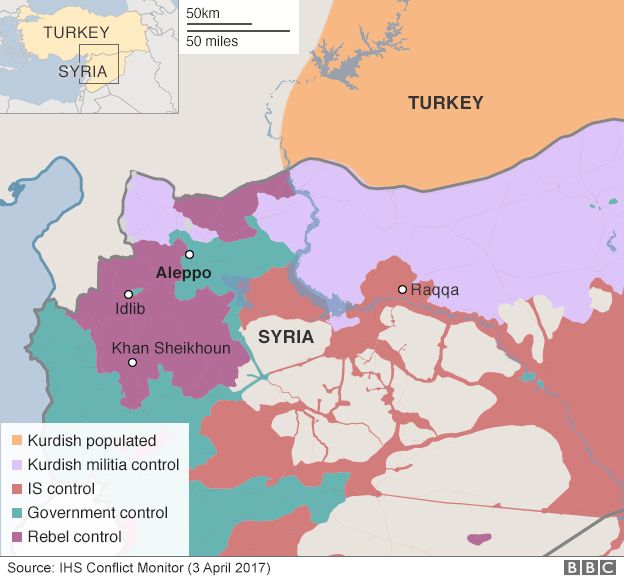 The explosion sent a yellow mushroom cloud into the air that stung her eyes. "It was like a winter fog," she said. She sheltered in her home, but recalled that when people started arriving to help the wounded, "they inhaled the gas and died".
Hussein Kayal, a photographer for the pro-opposition Edlib Media Center (EMC), told the Associated Press that he was awoken by the sound of an explosion at about 06:30 (03:30 GMT). When he reached the scene, there was no smell, he said. He found people lying on the floor, unable to move and with constricted pupils.
The Union of Medical Care and Relief Organisations (UOSSM), which funds hospitals in rebel-held Syria, said three of its staff in Khan Sheikhoun were affected while treating patients in the streets and had to be rushed to intensive care.
Victims experienced symptoms including redness of the eyes, foaming from the mouth, constricted pupils, blue facial skin and lips, severe shortness of breath and asphyxiation, it added.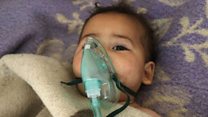 Unquote.
2. Josie Ensor, Beirut and Charlotte Krol, video news producer have produced a video featuring the protest of Syrian children about world inaction, which will send chills down your spine. It is available on: http://www.telegraph.co.uk/news/2017/04/06/syrian-children-protest-worlds-inaction-chemical-attack-idlib/
President Trump sent in his air force to target the air base in Syria from which the chemical weapon strike was believed to have been conducted on April 4, 2017.
Forces of President Assad of Syria have been using chemical weapons since many years.
3. Now, what are chemical weapons?
"Chemical weapons are classified as weapons of mass destruction (WMDs), though they are distinct from nuclear weapons, biological weapons, and radiological weapons. All may be used in warfare and are known by the military acronym NBC (for nuclear, biological, and chemical warfare). Weapons of mass destruction are distinct from conventional weapons, which are primarily effective due to their explosive, kinetic, or incendiary potential. Chemical weapons can be widely dispersed in gas, liquid and solid forms, and may easily afflict others than the intended targets. Nerve gas, tear gas and pepper spray are three modern examples of chemical weapons.
Lethal unitary chemical agents and munitions are extremely volatile and they constitute a class of hazardous chemical weapons that have been stockpiled by many nations. Unitary agents are effective on their own and do not require mixing with other agents. The most dangerous of these are nerve agents, GA, GB, GD, and VX as well as vesicant (blister) agents, which are formulations of sulfur mustard such as H, HT, and HD. They all are liquids at normal room temperature, but become gaseous when released. Widely used during the First World War, the effects of so-called mustard gas, phosgene gas and others caused lung searing, blindness, death and maiming."
(Courtesy: https://en.wikipedia.org/wiki/Chemical_weapon)
4. International Treaty on Chemical Weapons
"The 1993 Chemical Weapons Convention (CWC) is the most recent arms control agreement with the force of International law. Its full name is the Convention on the Prohibition of the Development, Production, Stockpiling and Use of Chemical Weapons and on their Destruction. That agreement outlaws the production, stockpiling and use of chemical weapons. It is administered by the Organisation for the Prohibition of Chemical Weapons (OPCW), which is an independent organization based in The Hague.[9]
The OPCW administers the terms of the CWC to 192 signatories, which represents 98% of the global population. As of June 2016, 66,368 of 72,525 metric tonnes, (92% of CW stockpiles), have been verified as destroyed.[10][11] The OPCW has conducted 6,327 inspections at 235 chemical weapon-related sites and 2,255 industrial sites. These inspections have affected the sovereign territory of 86 States Parties since April 1997. Worldwide, 4,732 industrial facilities are subject to inspection under provisions of the CWC.
[11]" (Courtesy: https://en.wikipedia.org/wiki/Chemical_weapon)
5. WHAT AN AMAZING CIVILIZATION SYRIA WAS, ONCE UPON A TIME?
Syria was an ancient civilization! In fact it used to be called the cradle of civilization! It ranked along with the Egyptian and Indus Valley civilizations to dazzle the emerging world of that time with advancements in knowledge and urban living.
SYRIA WAS AN IMPORTANT TRADE REGION WITH PORTS ON THE MEDITERRANEAN, PRIZED BY A SUCCESSION OF MESOPOTAMIAN EMPIRES.
THE NAME & EARLY HISTORY
In its early written history, the region was known as Eber Nari ('across the river') by the Mesopotamians and included modern-day Syria, Lebanon, and Israel (collectively known as The Levant). Eber Nari is referenced in the biblical books of Ezra and Nehemiah as well as in reports by the scribes of Assyrian and Persian kings. The modern name of Syria is claimed by some scholars to have derived from Herodotus' habit of referring to the whole of Mesopotamia as 'Assyria' and, after the Assyrian Empire fell in 612 BCE, the western part continued to be called 'Assyria' until after the Seleucid Empire when it became known as 'Syria'. This theory has been contested by the claim that the name comes from Hebrew, and the people of the land were referred to as 'Siryons' by the Hebrews because of their soldiers' metal armor ('Siryon' meaning armor, specifically chain mail, in Hebrew).
Early settlements in the area, such as Tell Brak, date back to at least 6000 BCE. It has long been understood that civilization began in southern Mesopotamia in the region of Sumer and then spread north.
The two most important cities in ancient Syria were Mari and Ebla, both founded after the cities of Sumer (Mari in the 5th and Ebla in the 3rd millennium BCE) and both of which used Sumerian script, worshipped Sumerian deities, and dressed in Sumerian fashion. Both of these urban centers were repositories of vast cuneiform tablet collections, written in Akkadian and Sumerian, which recorded the history, daily life, and business transactions of the people and included personal letters. When Ebla was excavated in 1974 CE the palace was found to have been burned and, as with Ashurbanipal's famous library at Nineveh, the fire baked the clay tablets and preserved them. At Mari, following its destruction by Hammurabi of Babylon in 1759 BCE, the tablets were buried under the rubble and remained intact until their discovery in 1930 CE. Together, the tablets of Mari and Ebla provided archaeologists with a relatively complete understanding of life in Mesopotamia in the 3rd millennium BCE."
Quote Ends.
The video below has been posted by the Permanent Mission of the Syrian Arab Republic to United Nations, and encapsulates the Syrian civilization!
6. Now, the question arises why and how such beautiful civilizations are coming to an end with the use of weapons of mass destruction including chemical nerve gases?  And why political issues are not been resolved by peaceful negotiation?
Is it because undeserving politicians are catapulted to the top?
Is it because half the world is not bothered about what happens to the other half?
Is it because humanity only reacts when own kin has died ?
Is it because people of the world are increasingly becoming selfish?
Is it because UN has no real teeth?
Is it because the world has failed to lay down standards of decent governance to be followed by all nations? Why can't such a protocol be in place?
Why can't a country whose political administration has failed, be taken over by a Global Board of Governance, formed under the United Nations safeguarding the lives, rights, language, culture, and privileges of the people?
Should a rogue administration be allowed to remain in power?
The world needs a certain discipline and a certain policing at the highest level. The world needs peace in the hearts of rulers, not greed and hunger for power. 
The world needs more prayers than ever before!
LET PEACE PREVAIL AS WE REMEMBER THE CHILDREN OF SYRIA WHO DIED IN THE CHEMICAL WEAPON ATTACK! 
STAND UP PLEASE FOR WORLD PEACE!!!